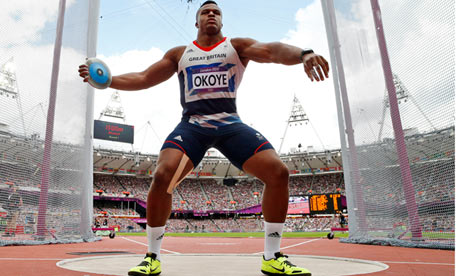 Lawrence Okoye signs as a free agent for San Francisco 49ers after Menelik Watson joins Oakland Raiders in NFL Draft; plus QB Geno Smith joins New York Jets
Paolo Bandini
On Twitter, the Oakland Raiders defensive end Jack Crawford coined the hashtag #BritsInTheBay. Born and raised in London, England, Crawford used to be the only British NFL player making his living in San Francisco's Bay Area. Now there are three. On Friday the Raiders selected Manchester's Menelik Watson in the second round of this year's NFL Draft. On Saturday the San Francisco 49ers signed former Team GB Olympian Lawrence Okoye as a free agent.
"It's great to see so many Brits in such a close vicinity," said Okoye in a conference call on Sunday. "I'd love to touch base with [Watson and Crawford]. Obviously Watson in particular, coming from where he's come from, has done unbelievably well to get drafted in the second round. I'm really happy for him and I'll try to make contact with both those guys at an appropriate time."
Where Watson is already being penciled in as a starter on Oakland's offensive line, it will be a huge challenge for Okoye to even make the 49ers' roster. NFL teams are allowed to carry as many as 90 players during preseason, but that number must be cut down to 53 by the time the regular season starts. A further eight players may be named to a practice squad – allowing them to train with the team but not take part in games.
The 49ers' practice squad might be the most realistic target for Okoye – a man who has never even played this sport before. Less than a year has passed since he was competing in the Olympic final of the discus at London 2012, and it was some time after that – after he had travelled to the States to resume training – that Okoye decided to have a crack at playing in the NFL.
At a regional scouting event, Okoye, trying out as a defensive lineman, startled talent evaluators with his athleticism. NFL scouts do not see a lot of 6ft 5½in, 304lb prospects who can run the 40-yard dash in 4.78sec. Even so, none was prepared to risk a draft choice on such a raw recruit. Okoye has, by his own admission, only once tried on a set of pads.
San Francisco were one of a number of teams to take an interest, however, inviting Okoye to visit their training facilities for private scouting sessions. Throughout this weekend's draft he fielded phone calls from a number of NFL coaches, yet it was the 49ers who convinced him most. Their defensive line coach, Jim Tomsula, worked in the now-defunct NFL Europe for nine years, where his focus was often on helping raw or inexperienced players to develop their skills.
"[Tomsula] just made it clear that he wanted me," said Okoye. "He didn't hold back any words or anything, he made it very clear what they wanted to do with me. Throughout the whole process the 49ers are the team that I've felt has wanted to do the most work with me and made me feel the most welcome when I went to visit there.
"They made it clear that it's a long road but that they wanted to work with me and they have the best organization to do it. Jim Tomsula has a great background in NFL Europe developing guys who have minimal experience of playing the game. And obviously he's been a huge success story from there to the 49ers and being one of the top one or two defensive line coaches in the year."
The 49ers' defense has been one of the best in the league since Jim Harbaugh took over as head coach in 2011, and Okoye confirmed that the opportunity to learn from such players as Justin Smith – a four-time Pro Bowler at defensive tackle – had also played a part in his decision.
"When I went to visit, Justin Smith was a great guy," said Okoye. "He actually went to college with Christian Cantwell, the world champion shot putter in 2009. So yeah, we had a little chat about track and lifting. Coach Tomsula has made it clear that [Smith] is going to teach me as much as possible and give me a lot of time. He's top two or three defensive tackles in the league, and there's nobody better to learn from."
Okoye has clearly immersed himself in the sport, discussing technique and alignments in more detail than one might expect from a player who had never played the game. Even so, he acknowledged that he has much left to learn, saying: "I know as much as I can about the game without actually playing it. But I'm still an outsider looking in to be honest."
He added that he had no expectations for this year, but at the same time made it plain that he will always set the bar high. "I don't put any limits on myself as you know," Okoye said. "If I declared when I was 18 that I was going to be in an Olympic final and a British record holder, hardly anyone would have believed it was possible.
"So just from past experience I know not to put any limits on myself. But I also do realise that it's a ridiculously tough, tough process, it's going to be a fight every day and I'm going to have to compete as hard as I can every day to get better and to not look out of place with these pros. I'm aware that there's a big possibility of being on the practice squad for however long they see fit."
What he can be sure of, at least, is that he has already made an impression on his new employers. Asked about Okoye by local reporters in San Francisco, Harbaugh replied: "He's just an Adonis. Just a great physical specimen of a man. I can think of some other adjectives. Our Creator created a beautiful man."
The great challenge facing Okoye is to parlay such undoubted physical talents into a similar beautiful NFL career.